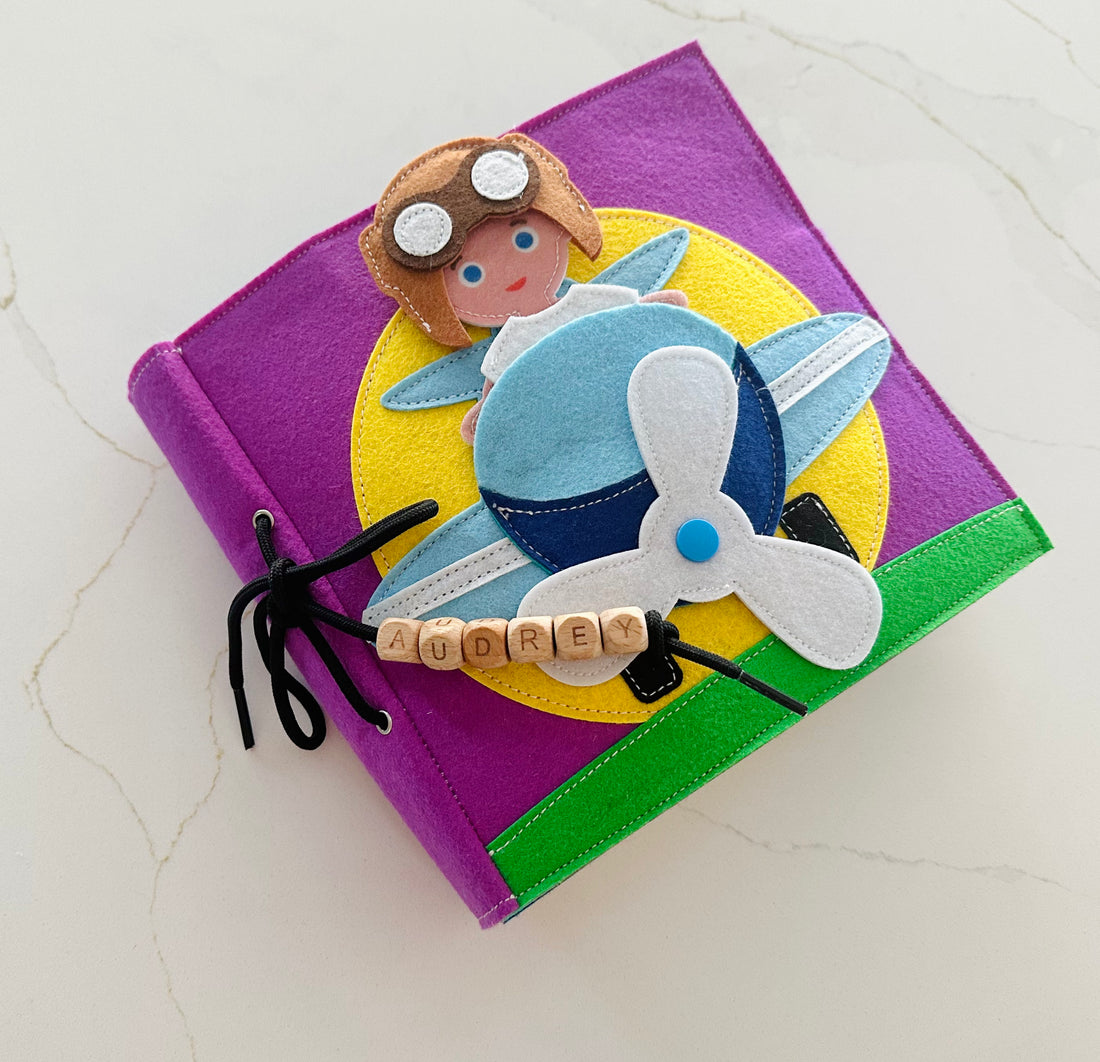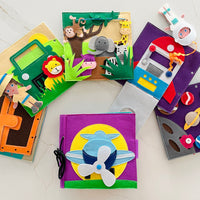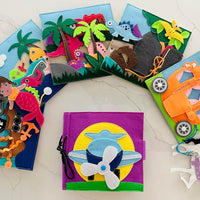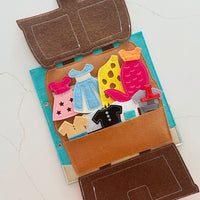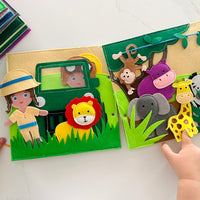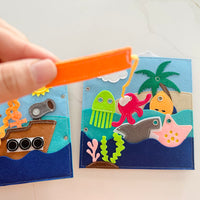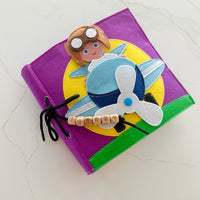 Unlock ten pages of exciting journeys for your little adventurer! Our Awesome Adventure book comes with a brave boy and girl to help guide your child through every thrilling page.
The book can easily be unbound and transformed into a mini-play set or kept together in a book form.
The ultimate book for encouraging imaginative play and story telling!
Activities
Pages include:
Airplane (front cover): Take to the skies on your very own airplane. Spin the propeller, soar into the clouds and get ready to embark on some epic adventures!
1. Treasure Chest: every adventurer must first look the part!
2. Pirate Ship: Yo Ho Yo Ho a pirate's life is a life for me! Pop on the pirate hat and be captain of the ship for the day. Drop the anchor and fire a cannon in your quest for Treasure Island.
3. Treasure Island: Where is the treasure? X marks the spot! Look! A magic (magnetic) fishing rod! Can you catch all the different creatures from the sea?
4. Rocket Ship: 10, 9, 8, 7, 6, 5, 4, 3, 2, 1... BLAST OFF! Quickly pop on your astronaut gear and helmet ready to explore outer space.
5. Outer Space: Look at all the beautiful planets in the solar system! Can you name them all? Which planet did we just blast out from? And what is peeking out of the moon's crater? It is a friendly alien finger puppet! 
6. Land of Dinosaurs: Look at the different types of dinosaurs stomping about. Can you see some hiding behind the trees? 
7. Dinosaur Cave: Lets be a cave boy/girl today! Pop on the outfit beside the cave and let's go hunting for our next meal. Oogie Ugg Ugg. What's in that cave? Let's undo the string and find out! DINOSAUR EGGS! Match the eggs to the dinosaur!
8. Safari: Hop into the truck for a grand Safari adventure. What animals can you see?
9. Safari Plain: how many animals can you spot? What noises do they make? Make a puppet show with the finger puppets!
10. Princess Carriage and majestic pony: your princess and knight are ready to hitch a ride in the beautiful carriage (with removable wheels) led by the handsomest pony. 
 Age Guide
Age guide: 3 - 7 years
Size
Size: 20 x 20cm
Safety Note
Wondertivity busy books contain small parts that are securely attached however please continue to supervise all children under 3 years of age.
The Awesome Adventure book contains small parts that are securely sewn on however please ensure children under the age of 3 are adequately supervised.
Over the moon
Just received my order today and am over the moon!! Can't wait to play with this book (ahem with my daughter of course!) 🤣 Will be back to order again. Thank you Wondertivity!
Loose threads and repair needed
The expensive book came with loose threads and some bad stitching. I was very disappointed. I cut the threads and did the resewing myself. When I told the company, they said I should have taken pictures - never thought to do that. They say is must have been missed in quality control?
Hi Karen,
I note you left negative feedback despite our best efforts to rectify your issues. Upon receipt of your complaint we offered to replace your book, but you declined, stating that you were able to fix the loose threads yourself. I note that we sent you an entire set of ornaments for the advent calendar (despite only two being missing) and also an additional gift to compensate you for your inconvenience. The Playful Pumpkin book you received in your initial order was also a promotional gift to you.
We have stringent quality control in place however as you can appreciate, our books are hand made and the designs are quite complex so we do miss things from time to time. We are always more than happy to rectify any problems that arise.
Love it!!
Such amazing quality and detail has been put into these books! So excited for my son to receive his for Christmas!
Awesome Adventure book is awesome!
I purchased this book for my 2 year old and 18 month old grandchildren and it is as well loved as I had expected. I have purchased 3 other Wondertivity books and was happy to see the usual great quality with this one too. I love the variety of activities on each page!
It's an amazing book and full of fun!!
I highly recommend this book. It's incredibly interactive and fun, with every page offering a delightful surprise. My baby especially loves the dinosaur page – it's so lifelike and entertaining. You definitely should get this for your child to enjoy.