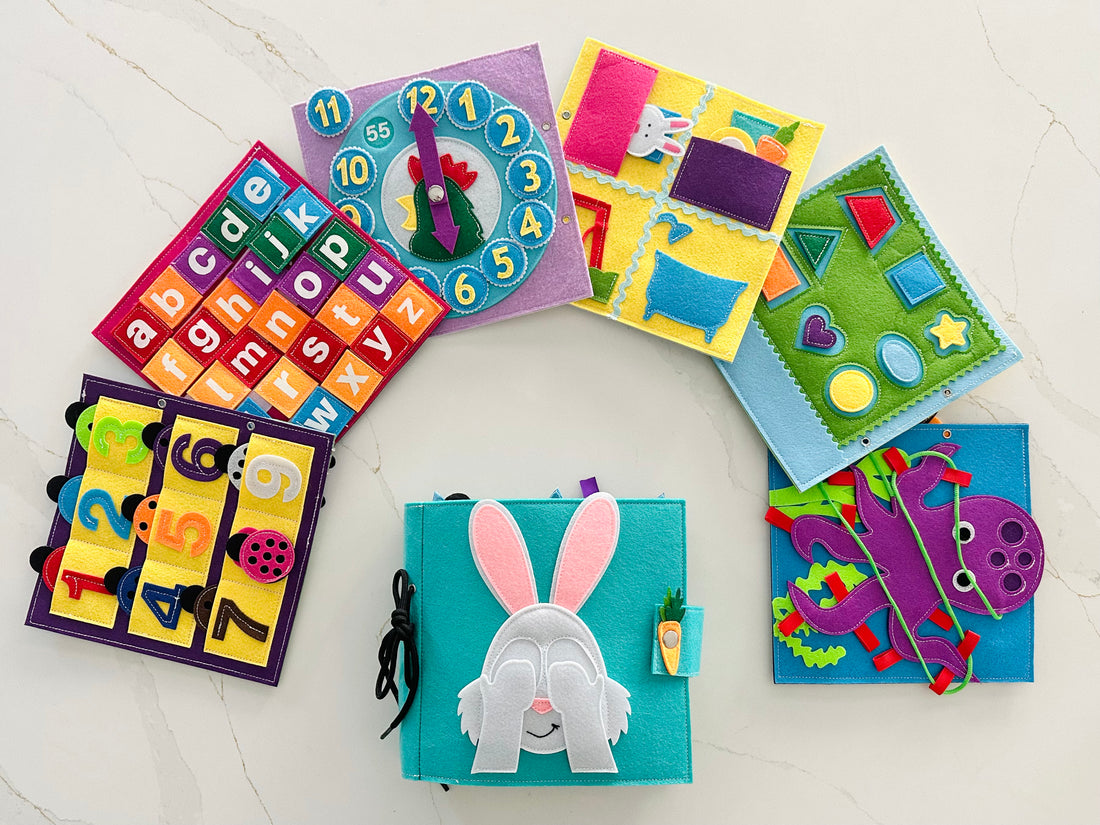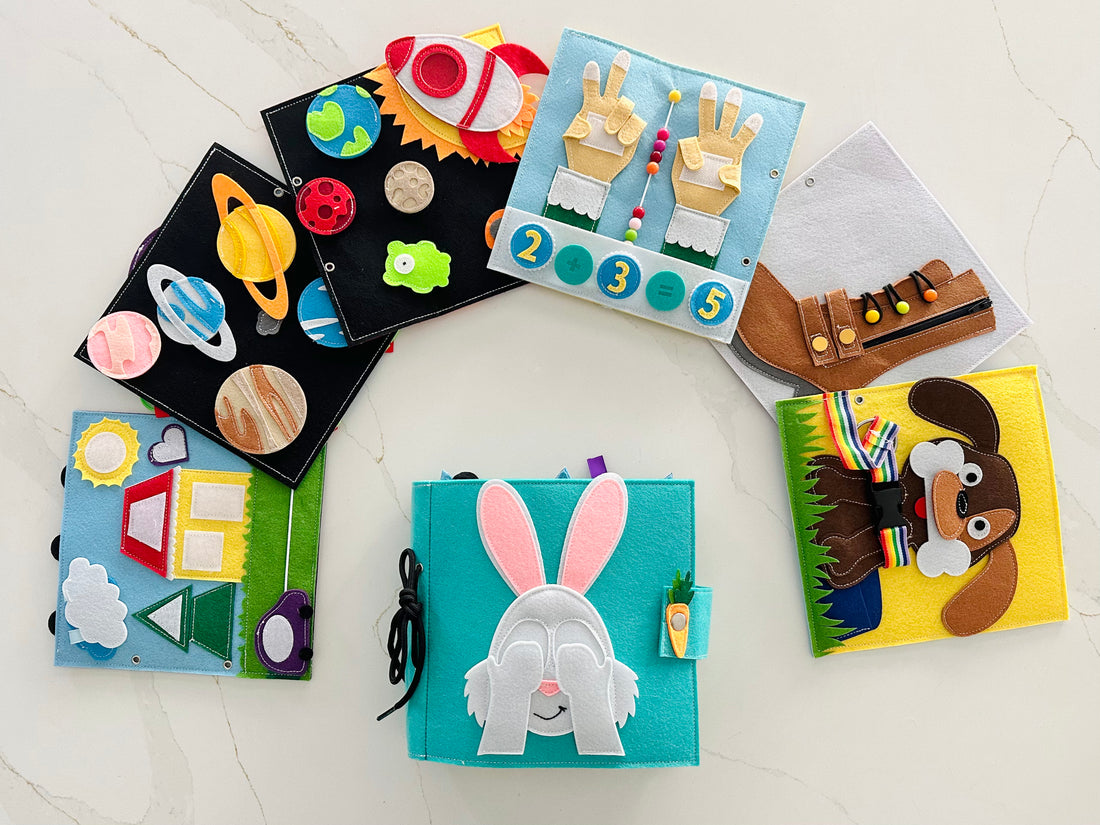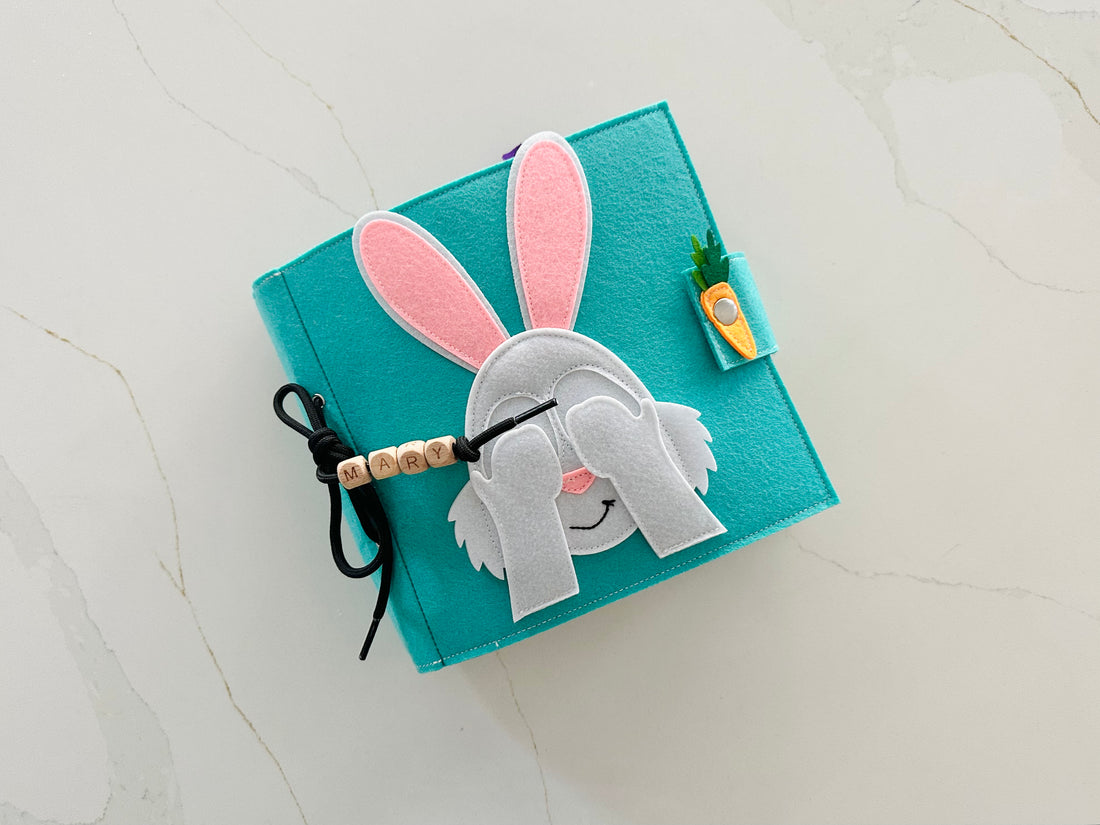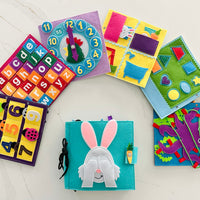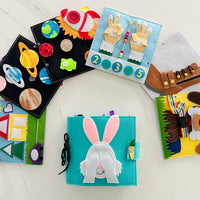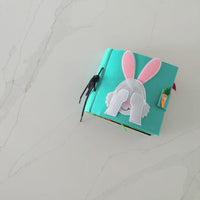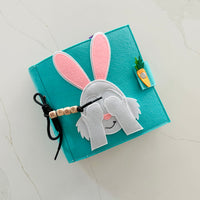 Give your child the best start to their learning journey with the Brainy Bunny busy book. 12 pages of activities to develop numbers and counting, sequencing, telling time, routines, planets, colours, self care, story telling and simple sums.
In addition, each page features at least one fine motor activity to help strengthen the hand muscles needed for writing.
Approved by Speech Therapists and Occupational Therapists. 
Available in a 12 Page Edition or a Personalised 12 Page Edition with wooden beads. Plus - add the Name and Age Page and you have the perfect busy book to help your preschooler get ready for "big school"! 
Page 1: Playful Puppy
Playful Puppy is ready to play! Unbuckle puppy's collar and take him off his leash. Puppy's mouth opens and can be fed the bone from his dog bowl. After all the fun, thread through the leash and buckle puppy back in his collar. This page is great for sensory play, developing fine motor skills and encouraging fine motor play.

Page 2 and Page 3: Shapes and Shapes all Around Us
On this page there are 8 multicoloured shapes. The pieces can be kept in the pocket at the bottom of the page ready for matching. This page is great for discussing colours, names of each shapes and their properties - for example, a square has four equal sides. Page 3 is for shape matching and imaginative play. Use the shapes from page 2 to fill in the gaps.

Page 4: Counting Coloured Bugs
The goal of this page is to sort the bugs out by number and colour. Maneouvering the pieces into each pocket also serve as great fine motor exercise. For younger children, start by matching the colours of the bugs to the colour of the number, older children will be able to use this page to practice counting.

Page 5: Octopus Tangle
This octopus is removable and can be taken out for a fun threading activity. Great for imaginary play and fine motor practice whilst developing patience and concentration skills.

Page 6 and Page 7: The Solar System
How many planets are there in our solar system? Can you name them and order them from the sun? There is also a little green one-eyed alien finger puppet, rocketship and comet for story telling and imaginary play. All the pieces are attached to the page by snap buttons which enable the planets to rotate through the solar system.

Page 8: Alphabet Page
Match lower case alphabet letters. Talk about the sound each letter makes, what word starts with the letter and sing the alphabet song to learn about alphabetical order.

Page 9: Buckle My Shoe
This page is for practising buckles, belts and buttons. Great for discussing self care and steps involved in getting ready.

Page 10: Tick Tock Clock
Our Tick Tock Clock features removable numbers and movable hands. The numbers are detachable with the corresponding minutes underneath. Perfect for learning numbers to 12, counting, ordering of numbers and time. This clock can be used with the following page to discuss routines and time. Use the numbers in the clock to make simple sums on the last page.

Page 11: Brainy Bunny's Day
Brainy Bunny's Day consists of 4 activities - bedtime, meal time, play time and bath time. This page encourages imaginary play, Brainy Bunny is a finger puppet and can be inserted in the pockets of each activity. This routine page can be used with the Tick Tock Clock page to learn about time and routines.

Page 12: Ten Little Fingers
Ten Little Fingers is great for learning about numbers and simple sums. In the pocket below the hands are mathematical symbols for addition, subtraction, greater than and less than sums. The numbers from the clock can be used on this page to make number sentences. The sum can be demonstrated using the fingers and/or the abacus in the middle of the page.
Suitable for 3+
Size: 20 x 20cm
Children under the age of 3 must be supervised due to the presence of small parts.
Very happy
Such great quality. Good value for money.
Brainy Book
Received this brainy book for my son and he loves it so much! Great quality with lots of educational and engaging pages for him to learn and play with. Great gift idea for preschoolers
Delighted
My 2 year old just adores his brainy bunny book.
Such a fun and interactive book and it keeps him entertained, we both love it.
Thankyou Wondertivity
Can't Wait for Easter
A really unique and special activity book I purchased way ahead of time for my grandson who will be 2.8 years by then. Super clever and well made with amazing details, rich colors and craftsmanship.
Amazing
So many activities and learning opportunities in this book. Mr 2 has been having the best time with this one. Definitely recommend 👌