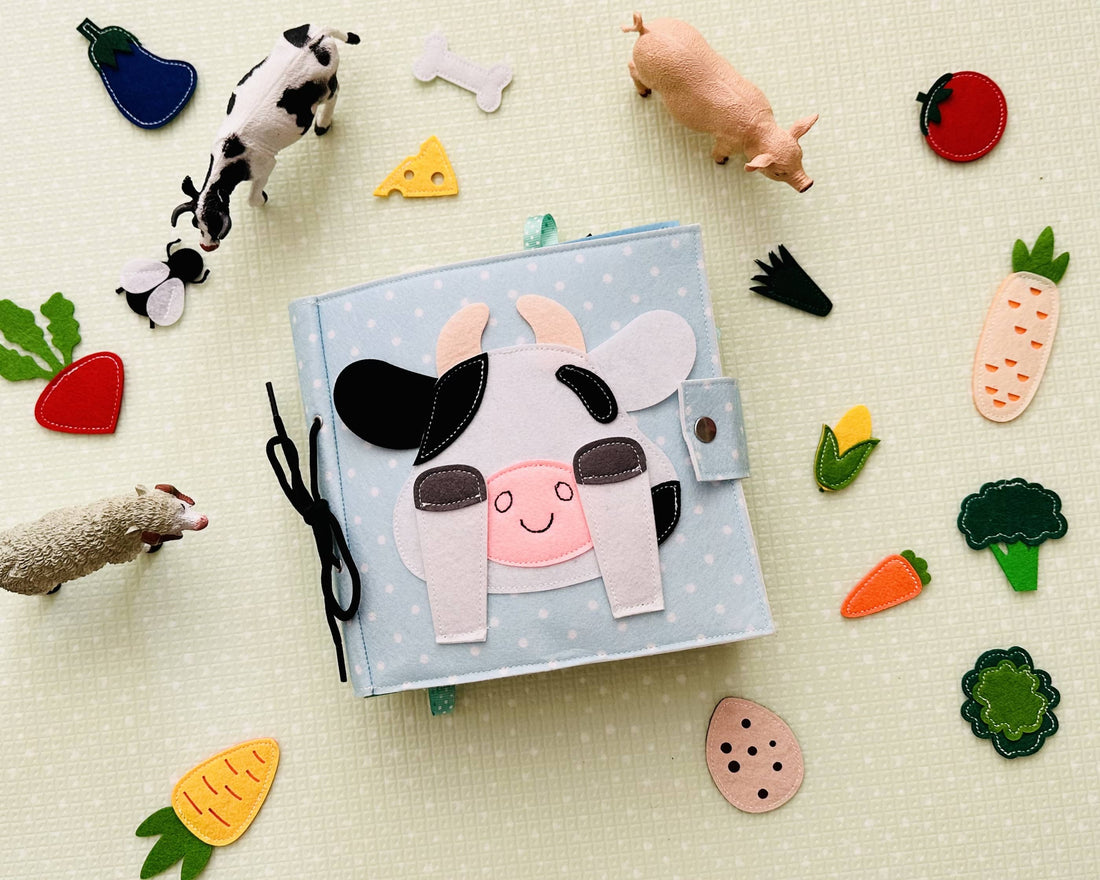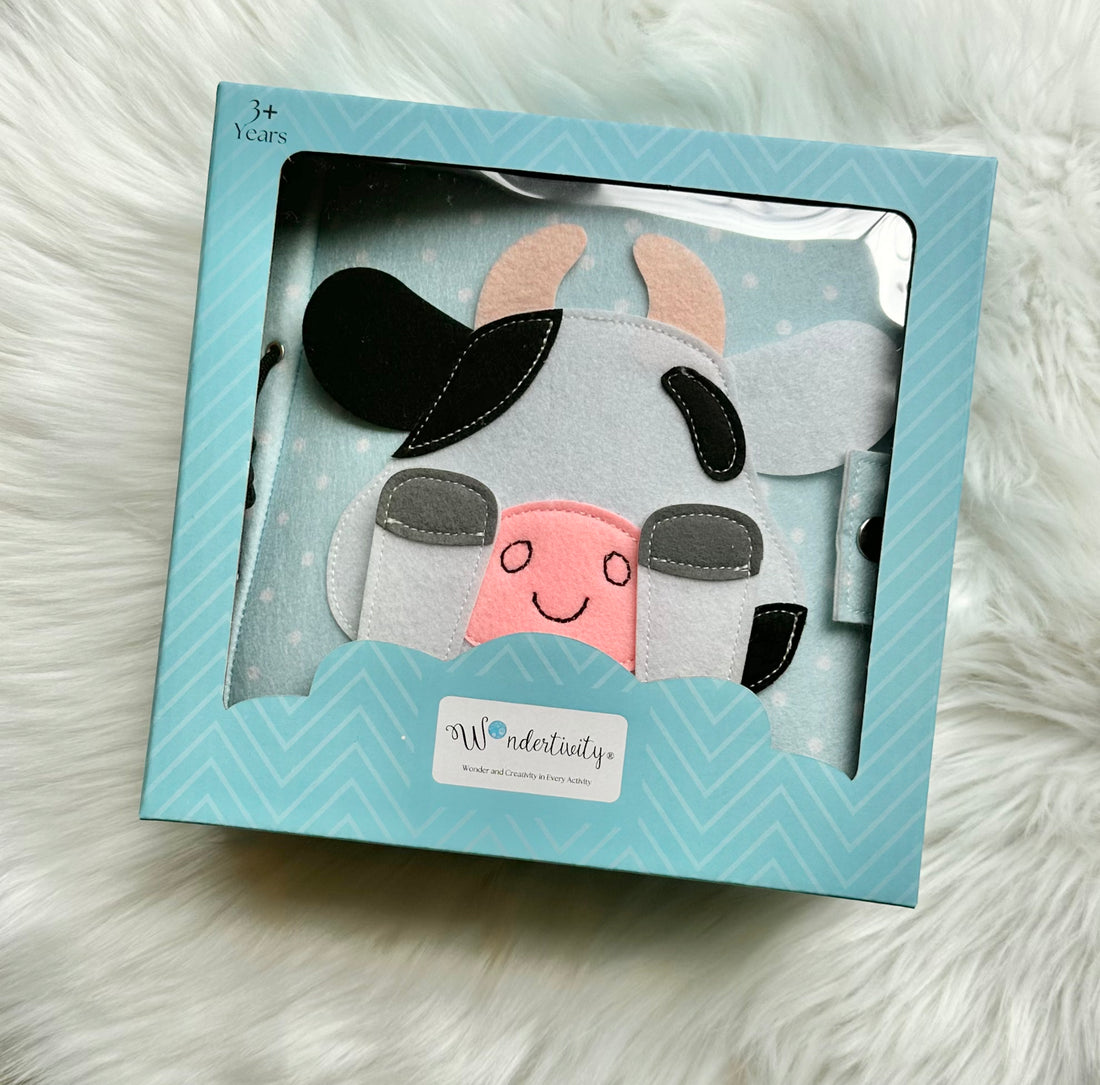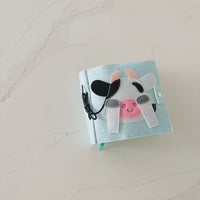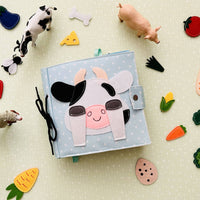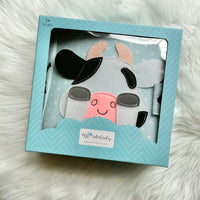 The Farmyard Fun Busy Book is bursting with farm themed activities for sensory play, fine motor play and for developing creativity and imagination. 

Let your child explore and create stories with finger puppets, learn about fruits and veggies, farm animals, what they eat, their babies, spell out 'FARM', and even help a bee count up to 10 or down to 1 as they thread through a field of flowers.
There's an option to personalise the book with engraved wooden letter beads or by adding the Name and Age Pages for that extra special personalised touch. Personalised books are also great for name recognition, spelling, the value of ownership and individuality.
The Farmyard Fun Busy Book is endorsed and used by Paediatric Speech and Occupational Therapists specialising in hand therapy.
Available in a 12-page edition or 12-page personalised edition.
*Children under the age of 3 must be closely supervised by an adult due to the presence of small parts.
Page 1: Big Red Barn

The barn can be opened by untying the laces - perfect for practicing threading, lacing and tying up laces. Inside the barn there are 4 animal finger puppets for role playing.

Page 2 - 3: Farmer and Tractor

The farmer and all the fruits on these pages are removable. The tractor is connected to the wagon by a buckle that can be undone. There are also removable tools for imaginary play and discussion around work that is done on the farm.

Page 4 - 5: Veggie Patch and Cooking Pot

Our veggie patch features 9 different types of vegetables. Great for learning about vegetables, how they grow, their colours, textures and shapes. There is also a friendly scarecrow watching over the veggie patch which adds another element for fun story telling. The Cooking Pot page has a semi-attached lid that can be opened and closed, a clear pocket for inserting the veggies from the opposite page, a ladle and some seasoning for imaginary play and discussion around recipes and the steps involved in preparing a meal.

Page 6 - 7: Number Fence and Animal Babies

The Number Fence page features a colour coded fence designed to help familiarise young children with numbers and counting up to 6. Each of the farm animals are accompanied by their babies. The babies are attached with velcro. this page is perfect for matching and learning about farm animals and their young.

Page 8 - 9: What Do They Eat and Windmill and Haystack Puzzle

This page teaches children about the food our favourite farm animals eat. The food is kept in a zipper pocket and matched to each animal by inserting them in each animal pocket. In addition to the educational benefits of this page, there is also plenty of opportunity to exercise fine motor skills. The Windmill and Haystack Puzzle is great for developing problem solving and reasoning skills as well as identifying small, medium and large.

Page 10 - 11: Rainbow Cloud and Busy Bee Countdown

Rainbow Cloud involves matching each of the coloured buttons to the corresponding coloured rainbow. The Busy Bee Countdown page is a threading activity. Your child will learn to count up to 10 or count down to 1 as they thread the busy bee through each of the flowers.

Page 12: FARM Barn Doors
This last page features 4 doors that open in different ways. Inside each door is a letter that spells out FARM that can be assembled at the bottom of the page.
Age Guide: 3 - 7 years

Size: 20cm x 20cm
Wipe gently with damp cloth
Wondertivity books contain small parts that are securely attached. However, please continue to adequately supervise children under the age of 3.
Sweetest busy books
The quality is absolutely amazing, i am blown away. My two year old is obsessed with her new busy books, will definitely be purchasing more, they are worth EVERY penny!!
Farmyard Fun book
This is the best thing I have given my children. They're so busy having fun that they don't even realise they're learning 😍 my daughter likes to show everyone who visits how she can spell "farm" thanks to the final page and she's so proud of herself too. Will be getting a couple more for Christmas this year.
Beautiful Quality & Endless Entertainment
My 2.5 year old absolutely LOVES this book! It's beautiful, engaging, and fabulous quality. We have bought cheaper alternatives previously and they've fallen apart after a couple of uses, even with a child who plays gently. We couldn't recommend these books any more highly and look forward to adding more to our collection!
The perfect gift
Wondertivity is my go to, for gifts for the children in my life. The quality is amazing, I really love these beautiful books and am always delighted with the product when it arrives.