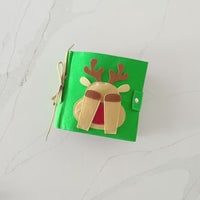 Holly Jolly Christmas Book
🎵Have a Holly Jolly Christmas, it's the best time of the year 🎵
Filled with plenty of holiday sparkle, this 10 page heirloom quality busy book is the perfect way to celebrate the most magical time of the year.
A memorable keepsake and Christmas gift for children ages 2-7*.
Activities include: 
1. Christmas cookie countdown: How many sleeps until Christmas? Count the cookies, what numbers are on them? Can you arrange them from smallest to largest?
2. Santa's Sleigh and 3. Jingly Reindeer: Santa's all ready to see all the girls and boys of the world. Santa and his reindeer are finger puppets. Put them on and tell a story of their incredible adventures! After all the fun, buckle them back onto the sleigh.
4. Presents Under the Tree: can you match the baubles and Christmas presents? 
5. Making Christmas Faces and 6. Christmas pieces: Make your very own: Christmas elf, Mrs Claus, Santa or a festive girl/boy character! How are they feeling? Can you give them a: happy face? Surprised face? Sad face? Etc
7. Festive Wreath: the beautiful ribbon has come off the Christmas Wreath, can you thread it all back?
8. Snow Globe Snowman: help the fluffy little snow balls through the maze and back down to the bottom of the snow globe.
9. "Christmas Memories" game: play a game of memory by yourself or with some friends. You can undo the snap buttons and mix the pieces for another game or to give yourself a challenge.
10. Stockings Hung With Care: clip the matching stockings above the fireplace. 
  *Children under the age of 3 must be closely supervised by an adult due to the presence of small parts.
The Holly Jolly Christmas book contains small parts that are securely sewn on however please ensure children under the age of 3 are adequately supervised.
So in love with this one 😍
We have a few of these amazing busy books and they always live up to the hype 🙌 the kids absolutely love this Christmas edition it has brought so much joy to the house, and lots of quiet moments for mum 😊
This was a hit with my 6 & 2 year old. Kept them busy for ages.
So much joy!
This Wondertivity book has bought my Christmas obsessed kids so much joy! All of the pages are fun and very well thought through. The quality of the book and attention to deal is just next level.
Santa Clause is coming to town
This book truly captures the magic of Christmas!
My little miss commented and sang with every page; just listening to her imagination whilst chatting about Santa and his helpers melted my heart!
Her two favourite pages are the memory game and the Christmas faces as she got to be Santa!
I've said it once and I'll say it again the quality of these books and the care taken into consideration in regards to every detail gobsmacks me every time (hence we are at least 10 deep in felt books)
Obviously, I would highly recommend this Holly Jolly Christmas book for everyone's Christmas activity box this year!
Gorgeous festive book
This book is going to make Christmas extra special for my daughter this year. Looking forward to doing it activities every night on the lead up yo the big day.